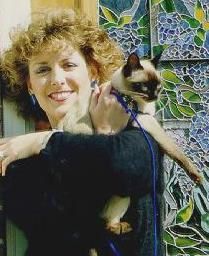 Amy has been writing about cats (and dogs) for more than 25 years. She has won dozens of awards for her books, articles, and broadcast appearances. Her work empowers pet lovers by turning "medicalese" into understandable information they need to make informed decisions for their beloved companion pets.
Experience
Amy is a certified member of the International Association of Animal Behavior Consultants, founder and president emeritus of the Cat Writers' Association, and a member/volunteer with several other animal welfare and writing organizations. She is a spokesperson for the pet product industry and a sought after keynote speaker and lecturer at conferences around the country.
She has been featured as a pet care specialist in The New York Times, Reader's Digest, Woman's Day, Family Circle, Woman's World, and other leading newspapers and magazines. She regularly appears on national radio and television as an expert, including CNN, Animal Planet, Cats 101, Dogs 101, and The Today Show.
Amy routinely attends veterinary conferences and behavior seminars, and also regularly interviews other experts to keep her knowledge current.
Amy Shojai, CABC
I adore cats! And I love connecting with people who share my furry passion.
Since I'm curious as a kitten, I have a dream job to figure out feline foibles, and help puzzled cat lovers understand behavior challenges. My writing seeks to educate, entertain, offer solutions, and help preserve the loving bond we share with these special creatures. Because after all, cats are never "just a pet" but are part of the family.
My husband and I currently live with Seren(dipity) the Siamese wannabe, and Magic the German Shepherd. The pets of my past, present and future are my furry inspiration and the reason I write. Please join me in celebrating cat behavior, and bookmark this site for all the cat-secrets your Tabby doesn't want you to know! (Shhhh...don't tell Seren).